CARL AND KATHY HATCHER • Since 1975 we have welcomed everyone to our facility. We enjoy helping you spend quality leisure time with your family. We feel that CH Marine offers you the very best in quality products and the expert service that is needed to maintain your toys.

Meet the rest of our crew. They are all dedicated to work hard for you.

"Thank you for your business for the past 30 plus years."
DAVE WHITE has been with C H Marine for over 30 years, and currently has service certificates for Evinrude, Johnson, Yamaha, and Volvo Penta motors.

Dave is also our shop supervisor and loves a challenge.
JOE SHAVER has been here for 10 years and is currently our lead rigger. His skills as a metal fabricator help him understand the needs of our customers.

Joe is current in his Yamaha 5 Star service rating.

He prides his work in doing it right the first time.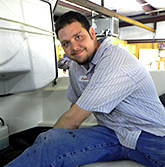 J
USTIN NORRIS
is our Master SeaDoo Technician. He currently holds certificates in Evinrude, Yamaha, and SeaDoo.

Justin loves to help his customers and is very conscientious about his work.

Justin's skills are also known by the factory, as he is sent problems other dealers cannot resolve.
CASSANDRA BROWN has been with C H Marine for over 5 years. She is the person to visit with concerning your service needs.

Cassandra will assist you with your warranty and insurance claims to get you back on the water as soon as possible. Her smile is contagious.
WILL DANIELS has been here since 2010. He always has a smile, is easy going, and is willing to help everyone. He takes great pride in his work ethic.

Will has completed his Yamaha 5 Star Training, and attended Yamaha school in 2013. He is certified in Yamaha and plans to complete his Evinrude essentials this year. Will also plans to attend Volvo Penta school next year.
FELIX GARCIA has been with C H Marine since 2009. He is the reason that your boat leaves here clean.

In all types of weather Felix is cleaning and scrubbing boats, SeaDoo's, and trailers.
MARCELLA SILVA came to work at C H Marine in 2011. She works very hard to keep all the new and pre-owned boats clean of the East Texas dust and bugs.

Marcella always has a "Good morning" and a smile ready for you.
ALONZO VALERIO is also a 2013 addition to the staff here at C H Marine. He is very easy going and always there to lend a hand.

Alonzo is training to become a rigger and really enjoys his job.
HOLLY RIDDLE started working at C H Marine in 2014. She assists our parts manager in the parts department. Holly will help you with all your parts needs.

"Look forward to seeing you HONEY" ... Holly
JAMES BUCHANAN started working at C H Marine in 2014. He is a shop helper and is one-of-a-kind that enjoys coming to work and learning.